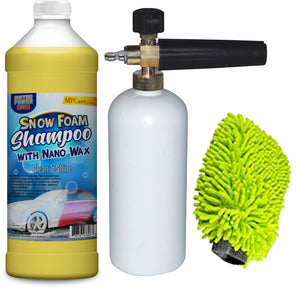 All What you need Kit, Snow Shampoo with Nano Wax, Foam Sprayer & Sponge: 
Ultra foaming high gloss conserver shampoo for effcient and gentle wash. Due to unique combination of innovative cleaning and care components a long term Nano protection barrier is created, that repels water and dirt.
the treated surface have deep high gloss shine as well as remarkable bead-up and easy to clean properties which offers perfect protection against aggressive environmental influences.
Application: Use Foam Sprayer. Mix 1-2oz to 16oz of water. Remaining residues of water can easily be removed with a micro fiber cloth or chamomile leather. 
 35oz (1000ml) can treat up to 50 wash