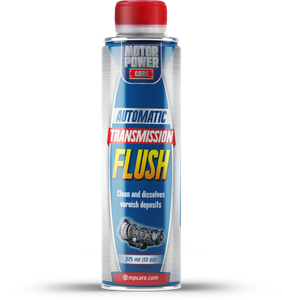 Automatic transmission flush cleaner stop slipping and hesitation certified product - MotorPower care.
High Quality Certified by TUV Germany, Automatic transmission flush
For All Vehicles equipped with Automatic Transmission & CVT.
Reliably dissolves and removes contamination, oxidized oil residues, and other deposits from the entire gear oil system.
For All Vehicles with Automatic Transmission & CVT.
Clean & Dissolves Contamination.
Lubricates While Working in the System.
Safe and Effective Formula.
 Add to the transmission fluid, run the vehicle for 30-40 min, then replace with new fluid. No flush is needed. We recommend a transmission conditioner with the new fluid part number T401 
375ml 12.68fl oz can treat up to 6 quarts of transmission fluid.
Part #T400