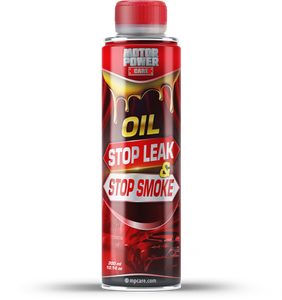 MotorPower Care Engine Oil Stop Leak & Stop Smoke:

Properties:
- Effective and safe formula
- Stops engine oil leaks and seals gaskets gap
- Prevents oil burning and excessive exhaust smoke
- Works with all Gasoline, LPG & Diesel engines
- Improves engine oil viscosity properties
- Improves compression and engine performance
- Decrease engine noises
- Reduce oil consumption

Innovative mixture of products that significantly reduces engine leaks, exhaust smoke, and soot generation for all 4-stroke-, Gasoline, LPG, and diesel-powered engines. Ideal for vehicles with high consumption of oil. The product ensures optimal lubrication of all moving parts and reduces the oxidation of the engine oil. Regenerates plastic and rubber seals in the oil circuit and keeps it soft. The oil loss through seals or piston rings is reduced or stopped, which reduces the oil consumption. Due to this, the engine noise will be lower, smoke is extremely reduced, the wear decreases, and the lifetime of the unit is increased. The high viscosity prevents oil from entering the combustion chamber.
Area of application:
For use in all 4-stroke, Gasoline, diesel, and LPG powered engines. This product is compatible with all commercially available oils.
Application:
Add to the oil system. We recommend an oil system cleaning with MotorPower Engine Flush before using this product. Total Oil volume according to manufacturer specifications must be observed.

Consumption:
300ml sufficient for 5 liters of oil. Mixing ratio: 1:15

Reaction time:
while the engine is running